Description
---
Continuous Hydrolyser Application
Jiangsu Sunrise Continuous Hydrolyser is the most advanced and easy-to-operate units available. The hydrolysers are specifically designed for the processing of feathers, hog hair, and animal offal.
A batch cooker is a type of industrial cooking equipment used in food processing and production. It can quickly prepare large batches of soups, stews, and sauces in one go. Batch cookers are ideal for other food preparation processes, including blanching, pasteurization, and sterilization. They have the option for manual operation or can be controlled using computerized systems. Batch cookers find frequent utilization in commercial kitchens, food processing plants, and various expansive food production facilities.
 Design Characteristics
 Continuous automated operation.
 Special main shaft designed to ensure efficient and uniform hydrolyzation.
 Safeguards against plug feed loss.
 Only one pressurized stuffing box must be maintained.
The continuous hydrolyser can be manufactured in stainless steel, carbon steel, or in a combination of the two.
 Low steam consumption, 0.71lbs raw material feather per kg.
 Supplied as one complete unit incl, all necessary instruments and valves.
 Continuous hydrolyser complies with GB national standards and each machine is produced, inspected and tested in accordance with GB pressure vessel standards and regulations.
Continuous Hydrolyser Technical parameter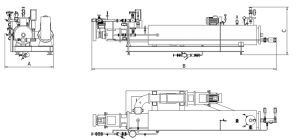 Technical Specification
Unit
Model
LXSJ25
LXSJ50
LXSJ75
LXSJ120
Capacity
t/h
2.5
5.0
7.5
12
inlet size
mm
925×405
925×405
925×405
925×455
Size A
mm
2450
2600
2650
3000
Size B
mm
7250
9250
10250
10950
Size C
mm
2900
3100
3200
3450
Weight
mt
12
15
16
18
Power-loading
kW
22
37
45
55
Power-hydrolysing
kW
15
18.5
22
30