Description
---
Twin Screw Press Application
Jiangsu sunrise twin Screw Press is used for pressing liquids from cooked fish or meat in a wet rendering process. Twin Screw Press ensures efficient mechanical dewatering and reduction of the oil and fat content, which improves processing and increases the energy saving potential.
Twin screw presses are machines commonly used for processing materials like fruit, vegetables and wood chips. Their applications include:
Juice extraction
Oil extraction
Pulp and fiber production
Dewatering and drying of organic waste
Compaction and pelletization of organic matter
Biological treatment of waste water.
Design characteristics
1. The twin screw presses are easy to operate, and the performance is easy to monitor.
2. The closed design ensures effective deodorisation, and the combination of electronic control and instrumentation enables automatic safeguarding against overload.
3. The flights' geometry can be cylindrical or biconical depending on the performance required and the type of material being processed.
4. The screw press shaft is a biconical press. One of the advantages of the biconical type is that the flights of one screw reaches almost into the core of the other screw. Minimum slip in the press and a more uniform press cake.
5. The two screws rotate in opposite directions, preventing the material from rotating with the screws.
6. The press consists of two interlocking screws enclosed by a strainer shell and surrounded by a cover.
7. The strainer cage consists of perforated stainless steel plates surrounded by mild steel supporting plates, which are supported by heavy steel bridges.
8. The strainer plate holes vary in size of the press from inlet to the outlet from 5 to 1.
9. Inspection doors are on both sides of the cover in its full length.
10. The cover and the inspection doors are made of stainless steel.
11. The cover is equipped with a suction branch for vapour.
12. The mild steel frame is supported on feet and is bolted to the gear housing.
13. At the inlet end the press screws are supported by self aligning roller bearings. At the other end the shafts are flanged to the main gear shafts.
14. The twin screw press is supplied with reducer, electric motor, V-belt drive, frequency converter for variable speed screw.
Technical parameter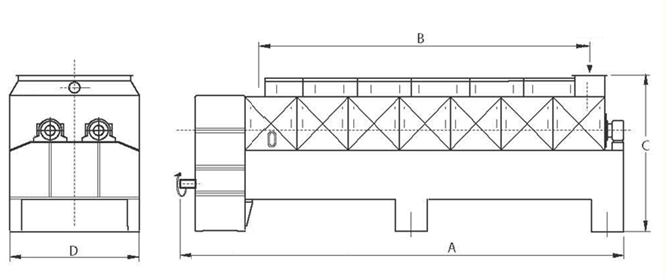 Model
Capacity (T/H)
Power (kW)
Size (mm)
Weight (T)
A
B
C
D
SYZ41
13
30
4425
3085
1600
1070
9
SYZ49
18
45
5683
3906
1801
1510
13.2
SYZ56
25
55
6600
4860
1900
1440
20.5
SYZ64
40
110
7380
5355
2170
1730
24
SYZ64-H
50
90-132
8320
6295
2170
1730
27.1
Twin Screw Press FQA
1.What are twin screw presses used for?
Twin screw presses are commonly used in the processing of materials such as fruits, vegetables, and wood chips for applications such as juice extraction, oil extraction, pulp and fiber production, dewatering and drying of organic waste, compaction and pelletization of organic matter, and biological treatment of waste water.
2.How does a twin screw press work?
A twin screw press works by using two intermeshing screws to compress and squeeze the material being processed. The screws rotate in opposite directions, creating a continuous pressing and squeezing action that reduces the moisture content and separates liquids from solids.
3.What are the advantages of a twin screw press?
High processing efficiency
Good solid-liquid separation
Low energy consumption
High-quality end-products
Easy maintenance
Wide range of applications.
4.What factors should be considered when choosing a twin screw press?
Type of material to be processed
Processing capacity
Moisture content of the material
Required end-product quality
Energy consumption and operating costs
Maintenance and repair costs.