Description
---
Fish Cooker Application
A Fish Cooker application could be a software program or mobile app that helps users cook fish in a variety of ways. Some features it may include:
A recipe database with various fish dishes and cooking methods
Step-by-step cooking instructions
Cooking time and temperature suggestions
Shopping list feature to help users gather ingredients
Nutritional information for each recipe
Timer and alerts to help users keep track of cooking progress
Option to save favorite recipes and make notes on modifications.
Design characteristics
1. The Fish Cooker consists of a stator housingand a screw rotor.
2. The stator housing is fitted with steam-heated jacket, screw scraper rotates continuously, heated by steam indirectly.
3. The stator steam jacket is divided into sections, enabling uniform distribution of the steam by means of a steam manifold.
4. The condensate from the jacket is discharged through a condensate manifold. The housing is equipped with hinged hatches with counterweights for efficient inspection and cleaning. The rotor is equipped with stuffing boxes in both
5. Rotor is supported by roller bearings on both ends.
6. Steam enters and condensate is evacuated through the end shaft.
7. The design of the fish cooker complies with GB national standards and each machine is produced, inspected and tested in accordance with GB pressure vessel standard and regulations.
Advantages
1. Gentle and homogeneous heat treatment of raw material.
2. Enables optimal liquid and oil separation  in press and decanters
3. Energy efficient.
4. Small volumes, easily adjusted process
5. During cooker, the raw material may expand.
6. Long intervals between cleaning operations
Technical parameter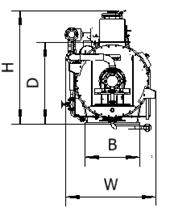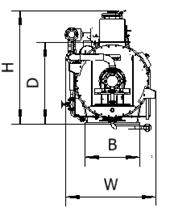 Cooker Model
Capacity T/H
Size (mm)
Weight (T)
Volume (m2)
L
H
W
A
B
C
D
YZZ0605
3.25
7500
1640
740
5000
600
3000
990
3.4
9.1
YZZ0806
8
8500
1841
940
6000
800
4000
1193
7.4
14.7
YZZ0808
11
10500
1841
940
8000
800
6000
1193
8.5
18.2
YZZ1110
20
12560
2196
1240
10000
1100
7250
1446
14.7
34.2
YZZ1112
25
14560
2196
1240
12000
1100
9250
1446
17.2
39.7
YZZ1312
30
14352
2386
1376
12000
1300
9400
1555
24
47.1
YZZ1314
35
16352
2386
1376
14000
1300
11400
1355
30
53.7
YZZ1614
44
17570
2820
1740
14000
1600
11400
2070
33
86.2
YZZ1616
50
19570
2820
1740
16000
1600
13400
2070
38
96.0
what is Fish Cooker
A Fish Cooker constitutes a culinary device employed for the preparation of fish dishes. It manifests in diverse manifestations, including a stovetop pan, an electric skillet, or a microwave-safe dish.Fish cookers typically have a flat surface for cooking the fish, a lid to trap heat and moisture, and a temperature control mechanism. The objective of a fish cooker is to simplify and facilitate the process of achieving perfectly cooked fish, eliminating concerns about regulating temperature or maintaining moisture. Fish cookers offer the capability to prepare an array of fish species, spanning from salmon and cod to tilapia and catfish.They find prevalent usage in household kitchens and are also encountered in commercial culinary setups.
Fish Cooker FQA
Frequently asked questions (FAQs) for a Fish Cooker application may include:
1、What kind of fish can I cook with the app?
The application could encompass an assortment of fish species and categories, including salmon, tilapia, cod, and more.
2、Is the app available on both iOS and Android platforms?
The presence of the app on particular platforms might differ, hence it's advisable to refer to the app store or the developer's website for precise information.
3、Are the recipes included in the app healthy and nutritionally balanced?
The nutritional information for each recipe may vary, but the app may strive to provide healthy and balanced options.
4、Can I save my own recipes in the app?
The app may include the option to save favorite recipes and make notes on modifications.
5、Does the app have a timer and alerts for cooking progress?
The app may include a timer and alerts to help users keep track of cooking progress.
6、Can I generate a shopping list based on the recipes I want to make?
The app may include a shopping list feature to help users gather ingredients.